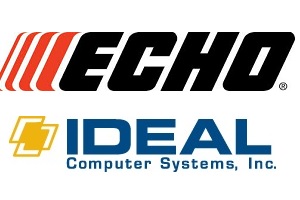 Ideal Computer Systems, the leading provider of business management software for Outdoor Power Equipment dealers, and ECHO Incorporated, a leading manufacturer of professional-grade, hand-held equipment, have teamed to provide dealers with The Toro Company's EZ-Link product registration system for those who carry ECHO and Shindaiwa equipment lines.
"EZ-Link integration through Ideal has been a true testament in our commitment to provide Outdoor Power Equipment dealers with products and solutions that will improve their business, and we're excited to provide this functionality for our ECHO and Shindaiwa dealers," said Mario Britz, Ideal's director of product development. "We've valued our combined initiatives with ECHO and Shindaiwa over the years, and this is a vital step in automating product registrations between our dealers and their manufacturer."
By using the EZ-Link integration through the Ideal software, ECHO and Shindaiwa dealers now can save valuable time on product registrations, as customer information only has to be entered once. The system will automatically send the product registrations to ECHO Incorporated's database, and the information then can be utilized by the dealer for warranty confirmation, customer marketing, and product rebate processing.
"Accurate and timely product registrations are an important component to meeting the needs of our customers," said Terry Ditsch, ECHO Inc.'s vice president of product service. "The Ideal and EZ-Link integration is a great time saver for our ECHO and Shindaiwa dealers."
The EZ-Link system was developed by Toro to link dealer inventory and invoice information directly with Toro's business systems. The resulting connectivity leads to enhanced productivity on both sides.
The Toro Company's original goal in the creation of EZ-Link was to allow its dealers more time to sell by spending less time entering data that has already been entered into the dealer's business systems," explained Dave Francis, e-commerce manager for Toro. With the adoption of EZ-Link, Toro dealers have saved a significant amount of time in warranty registration alone."
For more information on EZ-Link and how it integrates with Ideal's Business Management Software, call 800-737-1620.