If you're like many dealers, the backbone of your operation relies heavily on your service department. We all know that the efficiency of your technicians greatly impacts your bottom line. Any time spent away from turning wrenches greatly affects your profitability. Here's an example:
Think about a customer that comes in asking for some of your traditional, fastest moving parts. They've made your job easy because all you have to do is look up the part, availability, and location, and the customer is on their way. The same, however, cannot always be said for your service department.
When a customer brings a unit in for service, the tech must first evaluate the unit and then determine what parts are needed. Some are a relatively easy fix. Others, however, take more time and research in both diagnosing the problem and locating some of your lower volume parts. When more research and special ordering is involved, this whole process has just doubled if not tripled your time and resources. To maintain a profitable service department, it's essential to reduce some of the costs involved.
OPE Consultant Bob Clements stresses to his clients on a daily basis the importance of staying profitable in the service department and offers this advice. "I've encouraged dealers for the last several years to add 5% to the parts they sell to their own service department to help cover the additional costs. Adding an additional 5% on all parts under $100 offsets some of the expense. I recommend to markup parts 5% more than needed and then give a 5% discount to customers who walk in simply to purchase a part, so that they aren't overcharged."
Ideal Computer Systems and Clements have worked to help simplify this process with a new price markup feature. When utilized properly, any markup in the Ideal software is automatically applied to work orders which, in turn, keeps the service department consistent in their pricing and opens up the door for some significant profit-generating opportunities.
Here's how it works:
Make sure you've updated to Ideal v8.4
Go to Applications>Work Order>Work Order Setup
Under Price increase for Parts Sold on a Work Order, enter your desired amount.
Click OK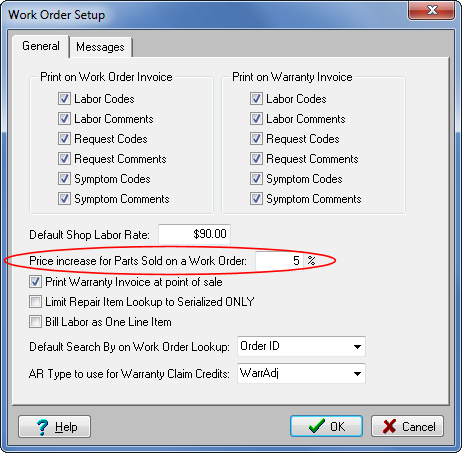 "With this new feature Ideal added to its software any dealer, with the click of a button, can instantly get the extra 5% on shop parts," said Clements. "This means the average dealer who sells $200,000 or more to their service department can virtually pick up an additional $10,000 or more in net profit. Ideal is the only software provider I know who provides this feature. It truly is a turning point in the future of dealership profitability."