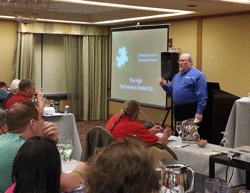 Ideal users from all over the country gathered together, November 18-20 in Kansas City, to learn how to better their usage of the Ideal system. Ideal's Lead Trainer Dave Baumgarten took time from his busy traveling schedule to provide a sold-out audience with some refresher courses on the core uses of the Ideal system, as well as some advanced features that will immediately have an impact on their business.
"Dave kept the presentation interesting. All of my questions were answered on the spot and everyone was very helpful," said Roger Vogler of MAG Small Engine. "The information was presented in an easy to understand way by someone who knows what they are talking about. I learned new stuff about even the most basic of things."
"The seminar taught me some new tricks and features in Ideal that I am able to bring back to my dealership," said Courtney Hursey of 4 Seasons Lawn & Garden. "I learned about some features that will make our jobs easier."
In addition to Dave's training sessions, attendees also had the privilege of picking up invaluable tips on how to run a high-performance business from dealership expert, Bob Clements. Bob electrified the audience and provided valuable information to help dealers start implementing effective processes into their dealerships immediately.
"Bob has a way of getting you excited about making change," said Gary Kulhanek Buffalo Outdoor Power "He has been to my shop before and had a positive impact. The place where I feel his input is needed most is getting the correct processes in place to make us run more efficient. I came back with many 'to do list' things that will positively impact my business."
"Bob Clements presented with lots of energy and got everyone involved," added Roger Vogler of MAG Small Engine. "Setting up some of his processes with be the most important starting out and it will trickle down from there."
Attendees also had a chance to see Ideal's new mobile inventory app and its time-saving advantages. The new app works with most Apple devices and can instantly update counts and bin locations straight to your Ideal system.
"We're very excited for the mobile inventory app," said Valerie Clows of Holistic for Pets. "It will be a great time saver. Our inventory is constantly changing and it's hard to keep counts accurate. This will make counting inventory so much faster."
Overall, attendees left feeling revitalized and eager to start implementing best practices they can immediately start applying to their business.
"We left completely fired up to make changes to better our business using information we gathered from Dave and Bob," said Jodie Davis of Viola Small Engine.
"This was outstanding!" added said Larry Glenn Bath of Power Equipment. "I hope that I will not wear out my welcome as I ask for support on the items that I learned and try to implement them."